Pla, with teammates Nic Jonsson and owner/driver Tracy W. Krohn, started today's 63rd Annual Mobil 1 Twelve Hours of Sebring presented by Fresh from Florida race ready for a hard charge. Pla did not disappoint when he drove a smart race start. A brief pass by Ryan Dalziel in the No. 1 Honda HPD ARX on the first lap was quickly solved at the hands of the talented Frenchman.
Pla led his entire first 40 minute stint before pitting under green flag conditions on Lap 21 to turn the Ligier Judd over to team owner/driver Tracy W. Krohn. Krohn was hit by another car merging into the acceleration lane of pit road on his way exiting, causing damage to the right side and dive plane. It was determined to wait until the scheduled pit stop to change the front nose.
Krohn and a Ferrari 458 Italia GTD car came together out on course shortly thereafter, causing a loose muffler. Once a full course caution was shown nearly one hour into the 12-hour enduro, the team pitted to change the nose and replace the muffler while under yellow. They returned to the track before all the damage was repaired in an effort to stay ahead of the pace car. The Krohn team pitted again the next lap for further repairs as the race went green and they lost a total of four laps.
The team continued with regular pit stop and driver rotations throughout the remainder of the first half of the once-around-the-clock race on the 3.74-mile circuit.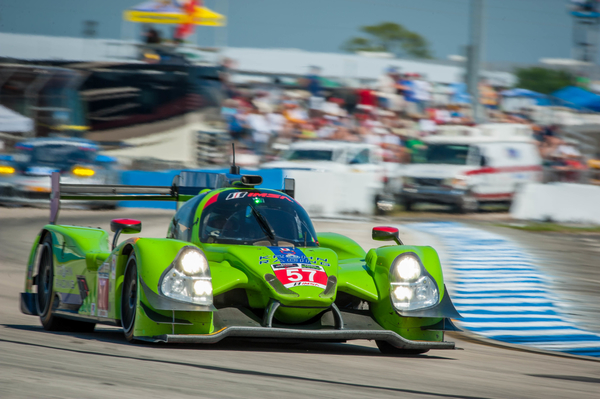 DRIVER QUOTES:
OLIVIER PLA, Krohn Racing, Qualifying and Pole Winning Driver:
What happened at the beginning of the start of the race?
"It was a good start but as I was expecting we are missing a little bit of torque and Ryan (Dalziel) had a bit of an advantage, but I could overtake him again by the outside. After that I was able to pull away. The car is even better than in qualifying. We changed the set-up through the night and it is really, really good. So let's keep pushing and let's go till the end."
TRACY W. KROHN, Krohn Racing Team Owner/Driver:
What happened in the incident on pit road?
"I was just coming down pit road. I don't know what happened, the guy just nailed me and I had nowhere to go. I understand he got a penalty, which I'm sure he well deserved. Everything was ok with the car. I had a little more under steering and a whole lot more vibration."
Tell us about the incident with a GTD car on course and your stint?
"It was with the Number 49 GTD. I came inside on him and he just came way inside out of his way to hit me. I'm not sure what happened there. He hit me on the left side and it didn't appear that any damage was done. It didn't help the cause any so we ended up having to repair a muffler, otherwise we were going to burn a tire on the right hand side. So it's just unfortunate and really bad luck. Other than that the car has been really good."
NIC JONSSON, Krohn Racing Team Owner/Driver:
How was your stint?
"The first stint was quite difficult actually. I think we missed the tire pressure a little bit, so the car was very loose and I had to really muscle it through the corners so the lap times weren't that great. I had to fight the car to stay on track. We did a tire pressure change for the second stint and it became much better. We ran leader pace, right up there with the top three. The car is performing great. It's unfortunate that we got hit there and had to change the header and lost four laps, but it's a long way to go and we just keep plugging and have some luck and get some laps back."
How are the repairs that the team made holding up and is there a difference in the car?
"When I got in that's when we changed it so I didn't really run it before that. It's just spare parts basically and normal stuff goes back on. When Tracy got hit we hurt the front nose, a couple of dive planes, and then the muffler had to be changed so the car didn't catch on fire back there. So we lost four laps because of that, but that's how it goes sometimes and we just have to put our head down and keep running hard and see and hope that things fall in our favor."
Track temperatures were as high as 110 degrees Fahrenheit on the asphalt of the circuit with the ambient air temperature at 89 degrees F. there was a total of one hour and 42 minutes and six cautions during the first six hours of the race.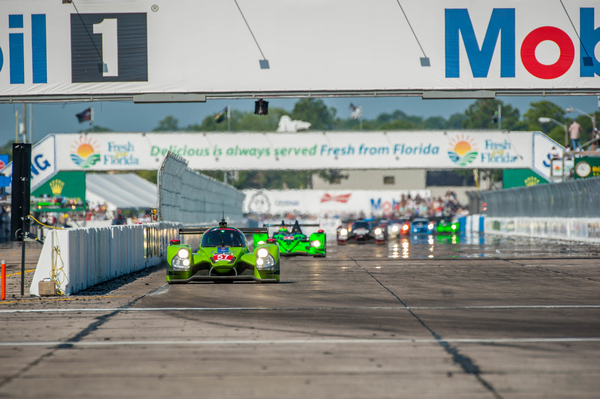 Tune In Information:
Follow the live television broadcast in the U.S. on FOX Sports 1 from 12:30 p.m. - 7:00 p.m. and on Fox Sports2, 7:00 p.m. - 10:00 p.m. IMSA.com (Live) and from 10:00 p.m. - 11:00 p.m. on FOX Sports 2. A highlights and cut-down version will air Sunday, March 22, 8:30 a.m. - 10:30 a.m. on FOX Sports 1. Live timing and scoring is available for all on-track sessions at IMSA.com and the IMSA Smartphone app.