Olivier Pla, the French development driver for Onroak Automotive on the Ligier chassis qualified the No. 57 Krohn Racing Ligier JSP2 Judd prototype on the pole for the American Krohn Racing Team. He followed up his fastest qualifying lap and twice set the fastest race lap. Pla's best lap time was 1:52.261 (119.935 mph) on the seventh of 20 laps he led for Krohn Racing in this historic event.
The Krohn Racing Team did an outstanding job representing the LMP2 category of the "Prototype" class, as the team was the only car remaining of six total P2s by race end.
Krohn Racing completed 334 laps in the once-around-the-clock American classic race, with the race winner completing a total of 340 laps. The Krohn Racing team ran a near flawless race with the exception of having contact on pit road at the hands of another car and a brief on-track incident shortly during the first half of the race, which cost the team four laps in the pits. By the sixth hour Krohn Racing was making steady progress to gain back crucial positioning and completed the second half of the race with no further incidents.
HAYDEN BURVILL, Krohn Racing, Engineer:
"We did the testing so we knew what kind of pace we could run. We did it in all weather conditions and I am not surprised that we had the fastest car, but I am grateful we had the fastest car given the work that we had done. It was awesome to see Oli (Olivier Pla) lead and he was fantastic. The last hour he put in a lap that was almost as fast as his earlier lap that was a new track record he did in his first stint. We survived the first few hours pretty well. We had some good luck with the yellows. Unfortunately we had some bad luck making contact with a car that made a mistake. Then we had contact with another car on the track, which was fairly insignificant but it ended up breaking a muffler. There was a risk that the car would catch fire so it was quite trivial but very important that we attend to it.
"Subsequently once out of contention you're looking for a way to make laps back and the rules are much better this year to prevent cars from getting laps all over the place. Where that benefited us last year it kind of hurt us this year and we struggled to find an opportunity to make back any laps. Ultimately we came here with a car that was fast enough to show that we were competitive all weekend. It was good for the LMP2 cars to be able to run up front and show their speed and show there is reasonable parody between the DPs and LMP2 cars."
TRACY W. KROHN, Krohn Racing Team Owner/Driver:
"I think it was just one of those racing incidents. We had the car on the pole and had the quickest lap. The car was actually quite good throughout the race. We just had a very bad incident on pit road. It wasn't my doing and it cost us several laps. We had a real shot at winning this and I think that bodes well for the rest of the year. We have to put this behind us and we were the lead LMP2 car. We've got the rest of the season and the real season begins in April at Silverstone for us."
"We are definitely moving in the right way. Fortunately we spent a lot of time testing here and that is the benefit of testing. We know what to do next year and we will be back next year. We've got a great car and a really great team. I think everybody was pretty stoked when Olivier put it on pole here and finally got to see the fruits of their labor. I think we'll have a different story. The next few races are over in Europe with tracks that will be a little gentler on the car. However it was really good to come and do testing here because we will have a good idea of what will break and what won't. The car didn't break, it just got hit."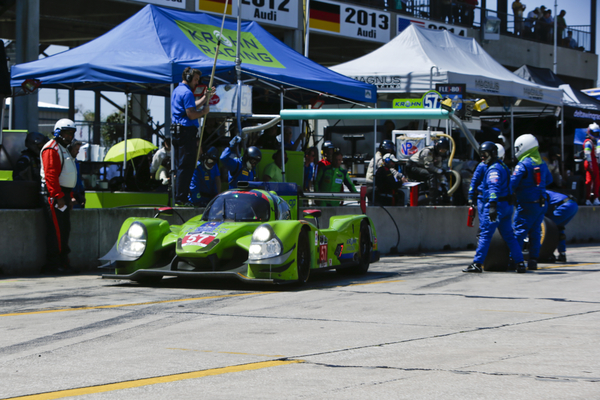 NIC JONSSON, Krohn Racing, Driver:
"Obviously today's finish is a great improvement from Daytona because we finished the race. The guys have done an enormous job to make the car more reliable for us. It is a huge disappointment for us that we didn't win because we had the fastest car today. We qualified on the pole, we were fastest pretty much every practice session, and if you look at the lap times we were the quickest car. It's just that we got hit at the beginning of the race and lost four laps and then we had to change the header. It's just very disappointing that we had the car to win today and we were disappointed that we didn't accomplish that."
OLIVIER PLA, Krohn Racing, Driver:
"We can only be disappointed. We have to accept it because it's motorsports. Fortunately the car was fantastic and the team did a fantastic job and it was a pleasure to work with them since Daytona. Everything ran pretty good and I was really happy to get to work with this group of people at Krohn Racing."
What are your overall memories of this race at Sebring?
"My memories are good. One thing -- coming here I knew we had the pace and a good car. We got the pole and that was really good. It was also good to be leading the pace from qualifying and then to put a gap on it. It's just a shame of the end result."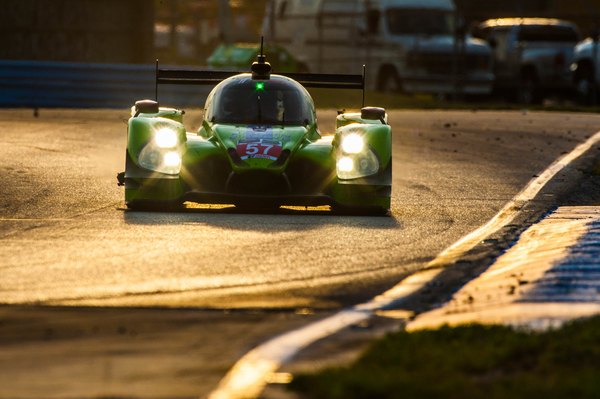 Hour-by-Hour Recap: Overall Position
Starting - Pole position
Hour 1 (Race Lap 30) - Running 5th
Hour 2 (Race Lap 53) - Running 5th
Hour 3 (Race Lap 77) - Running 34th
Hour 4 (Race Lap 104) - Running 22nd
Hour 5 (Race Lap 134) - Running 21st
Hour 6 (Race Lap 161) - Running 11th
Hour 7 (Race Lap 191) - Running 10th
Hour 8 (Race Lap 222) - Running 8th
Hour 9 (Race Lap 252) - Running 8th
Hour 10 (Race Lap 280) - Running 9th
Hour 11 (Race Lap 309) - Running 6th
Final (Race Lap 334) - Finished 8th
Tune In Information:
A television highlights program of the 12 Hours of Sebring will air in the U.S. on Sunday, March 22, 8:30 a.m. - 10:30 a.m. EDT on FOX Sports 1.
Next Race:
The next race for the Krohn Racing team will be the 4 Hours of Silverstone European Le Mans Series (ELMS) race, at the Silverstone Circuit in Towcester, Northamptonshire, England on April 11, 2015.
For more information please see www.imsa.com. Please visit www.krohnracing.com. Follow Krohn Racing on Facebook.com/KrohnRacing or on Twitter @KrohnRacing.